About Megathread
Brian Assam – CEO, Megathread'Ñ¢'s founder and inventor
Brian is an innovative thought leader, who in 1999, had a life changing experience that lead him on a path to discovering a practical solution to the growing challenges of society. Brian spent over a decade in relative seclusion working close to the land and studying different philosophies and natural systems. What he came to realize is that the key to our sustainability and future prosperity lies in the Internets ability to "self-organize" knowledge and information around the values and needs of people through online communities. Eventually Brian developed Megathread'Ñ¢, a system that can help fulfill the Internets potentials by accurately, and authentically, providing the right information to the right people at the right time.
Casey Jones – CFO, Director of Business Development
Casey Jones grew up in West Texas farming and ranching, excelled in and enjoys all sports throughout high school and college. As you can see from his photo, Casey isn't afraid of overcoming any challenge. This picture was taken on an amazing day in which Casey hiked three 14,000 foot peaks in fourteen hours… alone! Casey received a degree in Economics at The University of Texas at Austin. He spent three years in property sales and management in the Austin area, 5 years in marketing and advertising in Dallas and Chicago and for the last ten years Casey has been working to bring new medical technologies to the market, including "green" programs to reduce waste while increasing operating efficiencies. As Director of Development for Megathread'Ñ¢, Casey will establish new connections with online communities seeking to integrate with our proprietary technology and expand their online potentials.
Salman Aslam – Lead Developer, Megathread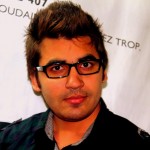 Salman, a native of Pakistan, has always outshone his peers and competitors where ever he went. Even from an early age his dedication to studies and educational pursuits granted him admissions in top schools and institutes. Graduating a valedictorian from high school, he went on ahead in the field of Software Engineering. After getting a gold medal from the most prestigious IT institution in the country, Salman continued to seek his fortunes in the field of software development. He has been amassing experience and honing his skills for the past 6 years by working with top level IBM and other developers from multiple countries, working for many international and national ventures has made him a top tier developer.
Breakthrough Technology
Megathread'Ñ¢ is the missing link to building a Semantic Web 3.0.
With the overwhelming mass amount of information shared over the World Wide Web's open-architecture, it is almost impossible to authentically recognize the credibility of people, online communities, and the information they share. Megathread'Ñ¢ provides a¬†collaborative,¬†decentralized, and self-regulating¬†solution to this fundamental problem. Through a 3rd-person assessment that is naturally designed to work over any community platform, Megathread'Ñ¢ can recognize who people truly are and what they really seek without abuse to privacy. This allows Megathread'Ñ¢ to provide the missing ingredient for the Internet to become a semantic environment that can accurately provide the right information to the right people at the right time.