For Individuals
Megathread'Ñ¢ recognizes significant factors for building credibility based on varying levels of social engagement and influence within online discussions. Personal profiles allow users accurate and effective control over their online social presence; including the ability to directly connect with the people, discussions, and communities that are most meaningful.
Megathread'Ñ¢ helps you :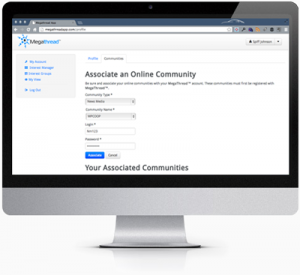 Establish life-long social credentials that can be recognized across any community platform
 Discover connections with people and communities that share the same levels of interest
 Enhance your social engagement with trusted people and credible sources of information
 Protect your privacy by through superior social engagement that eliminates the need to share personal information
Get Recognized
Megathread™ empowers people who are active in online discussions through establishing the social credentials they deserve.  It then provides the medium for enhance social presence, establishing more meaningful connections, and maximizing the value of your online experience.
One Pre-requisite
To be a part of Megathread'Ñ¢ you must be a member of an online community that utilizes Megathread'Ñ¢'s technology. ¬†After registration be sure to associate this community with your account.