How does it work?
Megathread'Ñ¢ is a simple application that works in the background of community discussions. It seamlessly generates cross-platform credentials, establishes social influence, and provides a more authentic community environment without changing anything about the look or feel of the 3rd-party site.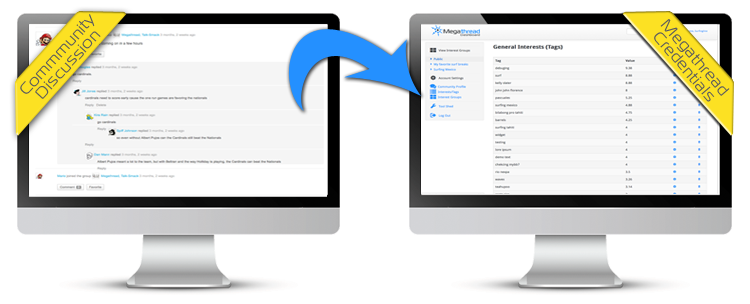 This patent-pending technology is based on a 3rd-person assessment of the discussion's level of engagement and people's influence within specific topics and areas of interest. As people continue to share and respond to comments and posts, Megathread™ recognizes and indexes significant factors that build more accurate credentials and a stronger social influence. The more relational the information and the higher the level of engagement, the more credible and accurate Megathread™'s social credentials become.
Once these credentials are established, individual members or community administrators can easily managed their credentials through building Interest Groups.¬† Megathread'Ñ¢'s Interest Groups provide an accurate and effective pathway for staying connected with people, posts, discussions, and communities that share the same levels of interest.
For communities, Megathread™ provides tools such customized dashboards, a superior social search engine, social analytics, and a multitude of widgets for optimizing your online presence.